Step by Step How To Replace Honda Element Serpentine Belt
Replacing your serpentine belt is not as difficult as it may seem. You don't always need to replace your tensioner but if you have the belt off it might not be a bad idea to replace it while you are half way there. 


It shouldn't take you more then 10 or 20 minutes to fully complete this job but be careful not to pinch your fingers or let the tensioner slip while your fingers are under the belt.
HONDA ELEMENT SERPENTINE BELT ROUTING DIAGRAMS
How To Replace HONDA ELEMENT Tensioner
If you need to replace your tensioner because it is squeaky, damaged or you just want to perform some routine maintenance don't re-install the belt yet. Follow these steps to replace the tensioner
HONDA ELEMENT Tensioner Torque Diagrams
Clean or replace VTC Strainer Screen
It's a REALLY good idea to clean your VTC strainer screen with some brake cleaner or even replace it if you see that the rubber is dry and brittle. If you have the power steering pump and tensioner removed it is just two 10mm bolts that hold on this rectangular metal plate just behind where the tensioner sits.
Tools you may need for the job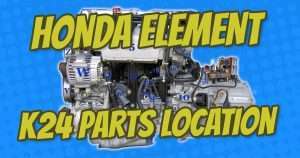 K24 PARTS LOCATION HONDA ELEMENT This article shows the location and name of all of the parts, sensors and solenoids on the Honda Element K24...
Read More