This article provides a great walk through on how to step-by-step change your Honda Element Thermostat.  Please do yourself the favor and replace this with an OEM genuine Honda thermostat, it's not too expensive on Amazon! I have a link below to the OEM product. Get it done right the first time! Please follow this guide and if you have any questions please be sure to join the facebook group to ask!
How to Replace Honda Element Thermostat
Learn how to replace your thermostat from this video!
Why you should use type 2 coolant
Learn if you should use type 2 coolant from this video!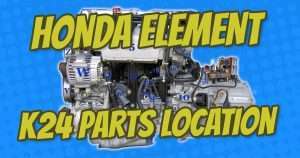 K24 PARTS LOCATION HONDA ELEMENT This article shows the location and name of all of the parts, sensors and solenoids on the Honda Element K24...
Read More