Just look at at that beautiful lift height on this brand new Honda Element liftgate! Sadly our Element's are not brand new anymore and with the current winter conditions facing most of us this time of year I thought I would put this article together so you don't have to constantly bump your head this season due to your worn out tailgate lift shocks. Sure, I know you are thinking what is so special? Buy some new shocks and install them, problem fixed. You could go that route or you could hack your way to an extra 2″ of standard lift using a set of shocks from a VW. That's right I will show you the exact part you need to buy to get 2″ of extra head clearance to not only fix worn out tailgate lift shocks but also improve your Honda Element with this nice little upgrade!
After Fifth Element Camping posted this to their story I was really interested in finding out more about this mod. Turns out these shocks come off a Volkswagen Beetle. I have no idea who figured out the cross platform similarities but with this mod you can get an extra 2″ of height and people who have done this hack have also reported the shocks are much stronger and open the tailgate much quicker. So instead of replacing your old worn out Honda Element Tailgate shocks with another pair of OEM fit shocks spend the same money for an upgrade. Who wouldn't want their hatch to open faster and higher?
Users report the VW tailgate shocks are exactly the same as far as installation goes. Both sides snap on to the Honda Element Tailgate exactly like an OEM pair of shocks would. Installation is exactly the same. In fact, here is a video demonstrating exactly how to install the OEM shocks and this same guide can be used to install the upgraded VW Beatle Shocks onto your Honda Element Liftgate. All you need to do the replacement is a flathead screwdriver! Couldn't be any easier.
So now that you know for the same price and same installation procedure you could be getting and extra 2 inches of added height to your Honda Element liftgate it's kinda a no-brainer to upgrade to this hack next time you set out to replace your worn out shocks. Click the picture below to buy these shocks from Amazon.
Thanks a ton for checking out this blog entry and I hope if you buy these liftgate shocks you would consider coming back to this page after you install them and leave a before and after picture in the comment section below of your liftgate height for others to see! Stay Tuned!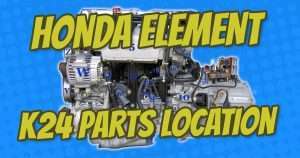 K24 PARTS LOCATION HONDA ELEMENT This article shows the location and name of all of the parts, sensors and solenoids on the Honda Element K24...
Read More