Doesn't matter if you own an Element or you are looking to buy one, at some point you are bound to ask, What are the Honda Element Interior Dimensions for the Cargo Area Space? Do you want to build your Honda Element cargo area into a camper or do you just want to bring home a 65″ TV from Costco? Everyone at some point wants to know what they can fit in their Honda Element cargo area. Did you know people have been able to fit a real full sized motorcycle in their Elements? How about needing to transport plywood or a lawnmower? The age old question with Honda Elements is what can you really fit inside? Lets take a look!
Are you impressed? Well you should be! It's amazing what people have stuffed inside their Honda Element's cargo area. Don't let the secret out or all of your friends will be asking you to help them with their next move or to mow their lawns next summer. I wonder if the designers of the Honda Element envisioned that people would use it to move and transport this variety of things.
So What are the dimensions of a Honda Element?
I hope these images help some of you out there figure out what can really fit inside of your Honda Element and if you don't already own one, I hope this article helps you decide if you want to buy one. To me, it is incredible what fits inside my Honda Element. Yesterday I brought home a 65″ Samsung TV from Costco and it fit perfectly standing upright in the box. I wish I would have snapped a picture but it was down pouring and I just wanted to get it inside as quick as I could. I use my Element as a delivery van bringing catering order to hungry people. Next time I have it loaded with food for 200 people I am going to add it above. I have to give a shoutout to the two places I got a lot of these pictures from. Please go to these links and give them a like and follow them. The left image below is the Facebook Group #Elementstuffing and the right is the accompanying Instagram page. Please click the images to be directed to the pages.
Leave a comment with some stuff you have stuffed you Honda Element cargo area with! We are all excited to see!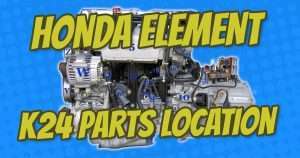 K24 PARTS LOCATION HONDA ELEMENT This article shows the location and name of all of the parts, sensors and solenoids on the Honda Element K24...
Read More