How to Replace Honda Element K24 VTEC Solenoid
Learn how to relpace the vtec solenoid from this video!
This video provides a great walk through on how to step-by-step change your Honda Element  VTEC Solenoid. You don't have to buy your parts through 1Aauto you can buy them from your local parts store or you can get them in the link below! If you have any questions please leave them below and let us know if this helped you change the VTEC solenoid on your Honda Element! Below is linked the OEM Honda VTEC Solenoid which is what you should install on my Honda Element. There are many cheap Chinese imported parts on Amazon but I would recommend you to install the OEM part for this one because any problems with the part that arise will cause more problems than saving a couple dollars is worth. You can google around and find out how much trouble people have with aftermarket units. Some parts I don't mind getting the cheaper version of but this is one I cannot recommend anyone to buy the cheap alternative. Just get the OEM Honda VTEC Solenoid and you will be happy!
Join our Facebook Group if you have any questions!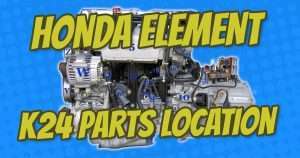 K24 PARTS LOCATION HONDA ELEMENT This article shows the location and name of all of the parts, sensors and solenoids on the Honda Element K24...
Read More