How to Replace Honda Element FRont STrut and Shocks Assembly
Learn how to replace your struts from this video!
This video provides a great walk through on how to change your Honda Element Front Strut and Shock Assembly. You don't have to buy your parts through 1Aauto you can buy them from your local parts store or you can get them in the link below! If you have any questions please leave them below and let us know if this helped you change the rear struts and shocks on your Honda Element! Below is linked the Monroe Quick strut which is what I run on my Honda Element and I have had zero problems with them, they are a trusted brand unlike the rest of the Chinese imported parts on Amazon. They also come with a lifetime warranty that you need to contact Amazon Customer Support in order to get the form!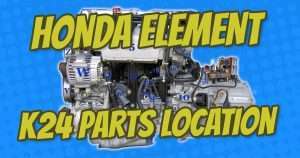 K24 PARTS LOCATION HONDA ELEMENT This article shows the location and name of all of the parts, sensors and solenoids on the Honda Element K24...
Read More