How to Replace Honda Element Radiator Fans
Learn how to replace your fans by watching this video.

Today I teach you how to replace the fans the easiest way possible, you don't even need to remove the upper radiator hose. There is another video on YouTube that is 19 minutes long, I tried to make a much shorter video to help you replace your honda element radiator fans. As always, if you have any questions you can reach out to me in the comment section and I will answer you.
Get the Radiator Fans Here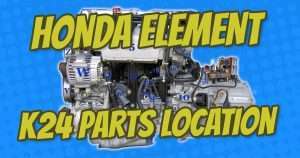 K24 PARTS LOCATION HONDA ELEMENT This article shows the location and name of all of the parts, sensors and solenoids on the Honda Element K24...
Read More