How to Fix Honda Element Hood Latch
Learn how to replace the hood latch from this video!
This video provides a great walk through on how to step-by-step change your Honda Element Hood Latch. I snapped my original hood latch over the winter and decided to replace it with this aluminum one from amazon and it worked out really good and only cost about $10
Join our Facebook Group if you have any questions!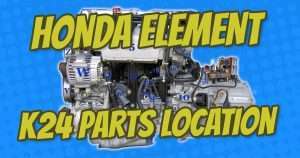 K24 PARTS LOCATION HONDA ELEMENT This article shows the location and name of all of the parts, sensors and solenoids on the Honda Element K24...
Read More