How to change honda element starter without removing the intake manifold
Learn how to change your starter the easiest way!
Yes, there is an easy way to replace your starter in your Honda Element!! This topic I see talked about more than any other on the Honda Element Facebook groups. Shops gouge people's wallet books and charge upwards of $800 to replace the starter. Thats just crazy talk. This job really isn't even hard if you have some basic mechanic skills coming into the job. If you are unsure, watch ErictheCarGuy's excellent video (fellow Element owner as well, so show him some love!) and see if this is a project you can tackle yourself and save yourself some good coin!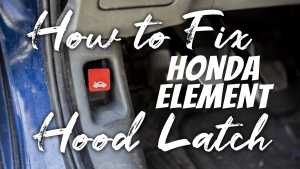 How to Fix Honda Element Hood Latch Learn how to replace the hood latch from this video! This video provides a great walk through on...
Read More